Agony
Talk

0
11pages on
this wiki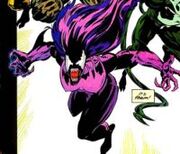 Leslie Gesneria volunteered to a part of the Life Foundation, an organization that prepared for world destruction. After Venom produced more offspring, the symbiote Agony became attached to Leslie

Leslie at first couldn't control her symbiote, and so with the other symbiotes Lasher, Phage, Riot, and Scream, tracked down Venom to learn control. However they were defeated and apparently killed.
It was later revealed she had survived, and again tried to learn control over the symbiote. After Venom denied them again, Agony was killed by Scream.
After her death, she combined with the other symbiotes to form Hybrid.